Reasons for a Bathroom Renovation
Bathroom remodeling projects have become increasingly popular among homeowners looking to update their living spaces. There are several reasons why people choose to remodel their bathrooms.
One common reason is to update outdated fixtures. Over time, light and bathroom fixtures can become worn or outdated, and a remodel provides an opportunity to replace them with more stylish and popular options.
Increasing storage space is another reason homeowners choose to remodel their bathrooms. From toiletries to towels, having extra space is essential in maintaining an organized and clutter-free area.
Creating a more functional and comfortable bathroom is also a driving factor for remodeling projects. Homeowners often want to optimize the functionality of their bathrooms, making them more efficient and suited to their daily routines. This can include adding features such as a walk-in shower, additional counter space, or a double sink with a double vanity.
Whether it's to update the bathroom lighting fixtures, increase storage space, or create a more functional and comfortable room, bathroom remodeling projects offer homeowners a chance to transform an old and outdated bathroom into a stylish and rejuvenating space.
Think About The Purpose Of Your Bathroom Remodel
When considering a bathroom renovation project, it's important to first consider the purpose of the remodel. By honing in on the reasons for why you are doing the remodel, you can create a plan to match your goals while ensuring the end result is one that you will enjoy for years to come.
Upgrading fixtures or materials may be your primary goal when remodeling the bathroom. In this case, focusing on sustainable and energy-efficient pieces can be beneficial and help keep costs down in the long run. If additional storage space is required, consider stylish cabinets or shelves that offer extra options without overwhelming the visual space. Your current bathroom layout may not be working for your lifestyle. If that is the case, reconfiguring the problem areas into efficient and attractive designs should be a priority during the project. Updating accessories like tile flooring, countertops, or wallpapers can enhance the overall aesthetic of a space. Additionally, you can improve your design with ADA compliant shower features that can increase accessibility and comfort for aging people and other family members in your home.
Planning Your Project
Planning is an essential step in any bathroom remodeling project. As previously discussed, it is important to establish the desired outcome of the project and identify any specific requirements for the space. Each goal should be carefully planned before starting the renovation process, whether it involves increasing storage options or upgrading light fixtures. It is essential to have a clear vision of how your goals can be integrated into your new bathroom design plan. Creating a detailed plan for materials and envisioning the desired final look can be helpful in guiding the remodeling process. Utilize mood boards and samples to assist in visualizing and materializing your ideas. By carefully outlining your objectives in advance, not only will the process of renovating your bathroom be smooth and seamless, but you will also achieve outstanding outcomes that can be appreciated for years to come.
After you have planned the type of project you would like to achieve, there are several factors that should be considered. Prior to beginning, it is necessary to conduct an initial evaluation of your existing bathroom. This involves identifying any potential issues such as water damage or outdated fixtures. This assessment will assist in determining the extent of the remodel and identifying areas in need of attention.
Next, establish a realistic budget for your project. Determine how much you are willing to spend and allocate funds accordingly. Make sure to take into consideration any additional costs that might come up. This will help you make informed decisions, ensuring that the project stays within budget, avoids any unexpected costs, and stays on track.
Creating a detailed floor plan is necessary for optimizing the utilization of space in your bathroom. When taking measurements, it is necessary to consider existing plumbing and take into account how many people will be using the space. This layout will help guide your remodeling decisions and optimize space usage.
Once you have the floor plan, it is time to select fixtures and materials. Consider your style preferences, functionality requirements, and durability. Take into account factors such as storage options, water-saving features, and maintenance needs.
Lastly, you will want to check if there are any necessary building permits or building codes that need to be followed. Some major remodeling projects may require permits, so it is important to check with local authorities before starting the remodel.
Careful planning is necessary to prevent expensive errors during the execution stage of your bathroom remodeling project. By addressing all of these items, you can ensure a smooth transition to your new bathroom.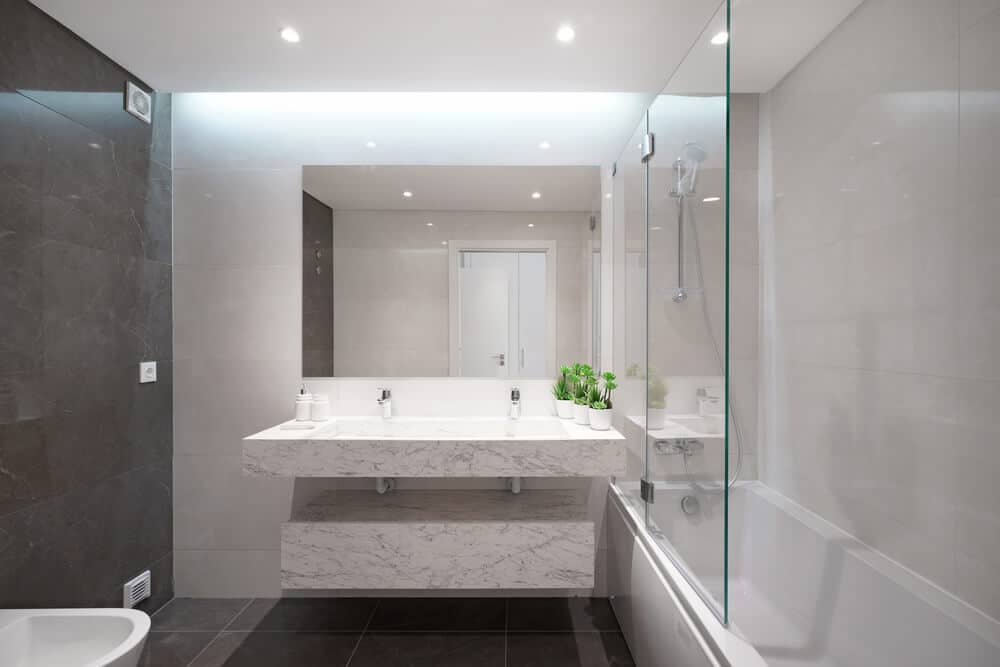 Take the first step in aligning your vision with the expertise of those who can bring it to life. At HWG Services, our expert bathroom remodelers are committed to turning your bathroom dreams into reality. Our team of skilled professionals understands the intricacies of design, functionality, and value enhancement. We recognize that a bathroom remodel is not merely a project; it's a transformation that enriches your living space and daily routines. Whether you seek to update fixtures, optimize storage, or enhance comfort, our comprehensive approach, we got you covered! Let us be your partner in this transformative endeavor. Contact us today to get started on all your bathroom renovation projects.