10 Popular Ideas for Home Additions
There's no better way than with a remodel addition. Looking to increase your square footage and add value to your home?
Additions for Northern Colorado home allow you to stay in your home while upgrading it, adding more space, and making it more functional. You don't have to move away from your home or neighborhood to create a space that meets the needs of your family.
When it comes to home additions, the sky's the limit. There are numerous ways you can add to your house. Your choice may depend on your lifestyle needs, budget, location, or design of your house. If possible, consult with a professional remodeling team to work you through your options for a home addition.
As you consider what's possible for your home and think of home addition plans, let us help you with these 10 popular home additions:
Building or enlarging a deck is one of the most popular home additions in Northern Colorado because it expands the home's outdoor living space.
Even a small deck can serve as a relaxing place to get outside and enjoy the beautiful Colorado weather. A larger deck can provide room for grilling and entertaining. You can even think outside the box and add an outdoor kitchen or pizza oven to your new deck. Decks can be made of different types of woods or other materials such as concrete, bluestone, or even aluminum.
Decks can include features like trellises, multiple levels, and railings. A deck not only adds value to your home but can also increase the curb appeal and take advantage of outdoor space that may be underutilized.
Decks are also huge selling points and can be a draw to future potential homebuyers.
Adding a full or half bathroom to your home is a popular choice for a home addition because it gets rid of a common pain point of having too many people in too cramped a space.
This is especially true in older homes that often only have one small bathroom for the entire house. A bathroom addition can add value to a house and has a big return on investment.
With a larger bathroom space, you may have room for a larger soaking tub or shower, dual vanities, extra storage space, and more.
You can also add a half-bath to unused spaces in the house, like under the stair or in unused closets.
A popular choice for home additions is to create or expand a master suite. Older homes typically don't have master suites, but a master suite addition can add a bigger bedroom, more closet space, or an attached bathroom.
It doesn't take a huge addition to turn an existing bedroom into a true master suite with walk-in closets and updated features.
Creating a master suite gives homeowners a sense of privacy instead of having to share their bathroom with other people in the house.
It can also create a calming oasis with more room to rest, relax, and store your belongings.
It's possible to update a kitchen with cosmetic changes like new cupboards or countertops. But if you really want to change the look and feel of your kitchen, an addition is a popular choice. Adding even a small amount of space can completely transform the kitchen and allow you to rethink the entire design and layout.
A kitchen expansion can make room for additional workspace, a pantry, new or larger appliances, or an eat-in area. Many people add modern features like kitchen islands and walk-in food storage when planning a kitchen expansion.
Adding space to one of the most frequently used rooms in the house can make a dramatic difference in how the space is used and can be felt throughout the rest of the house.
When you expand the kitchen and update it to match your style and budget, it impacts the entire home.
With a home addition kitchen expansion, you can turn a cramped and outdated room into something that is functional and beautiful.
If your home only has a carport or doesn't have any type of garage, adding one can dramatically boost to the value of your home. An enclosed garage not only gives you a place to park your car and keep it protected from harsh weather such as summer hail, but it also provides a secure place to store seasonal items, tools, outdoor gear, and more.
A garage can also house extra appliances and work areas. A garage addition can be as simple or as extravagant as you want. A simple garage isn't fully finished but includes full walls and doors.
If you want to go to the next level, you can add features like a shop area, finished walls, and built-in shelving. You can build your garage in the existing footprint of your carport or driveway, or you can expand that area into a larger space for more vehicles and storage.
A creative approach to adding more space to your house is to turn your garage into a useable living space like a bedroom, office, or living space.
The foundations are already in place for your garage, making it easier to add insulation to finish the space.
You can also expand an existing garage before finishing it to add even more space.
With a little imagination, you can turn your garage into an amazing space that is fun and functional and adds real value to your home.
When it comes to a home addition, don't be afraid to go up. Adding or expanding a second story can add valuable square footage without expanding your home's footprint or taking up any more space on your lot.
If you create an entirely new second floor, you could potentially double your square footage.
A second story adds additional living space, bedrooms, and bathrooms, all of which increase value and are desirable for potential homebuyers. A second story can also update the curb appeal of your home and make a dramatic difference in the exterior.
Although adding a second story can be an involved process, it often has a large return in the home's value and can turn it into one of the largest and most updated homes in the neighborhood.
Many houses in Colorado have unfinished basements, just waiting to be turned into usable living space. Finishing the space can add valuable square footage that can be used however works best for your life.
A basement can be finished to include a game or theater room, a living space, an exercise area, bedrooms, and more. Finishing the basement is a great remodel recommendation because a lot of the work is already done, like the basic walls and foundation. With the bones already in place, you have a blank slate to turn the space into whatever you want.
Even a small basement can add major value and space to a house when it's finished and can be a selling point for potential buyers.
Many houses lack entry space and a place to drop things as you come into the house. Adding a mudroom to the space, either by reutilizing existing space or by adding additional square footage, creates a drop zone to keep your things organized and accessible.
A mudroom can be especially useful in Colorado as a place to store snow gear in the winter without tracking snow and mud throughout the house.
It can be personalized to fit your exact needs, such as creating lockers or hooks for each member of the family or providing extra storage space for coats or seasonal items that don't fit anywhere else in the home.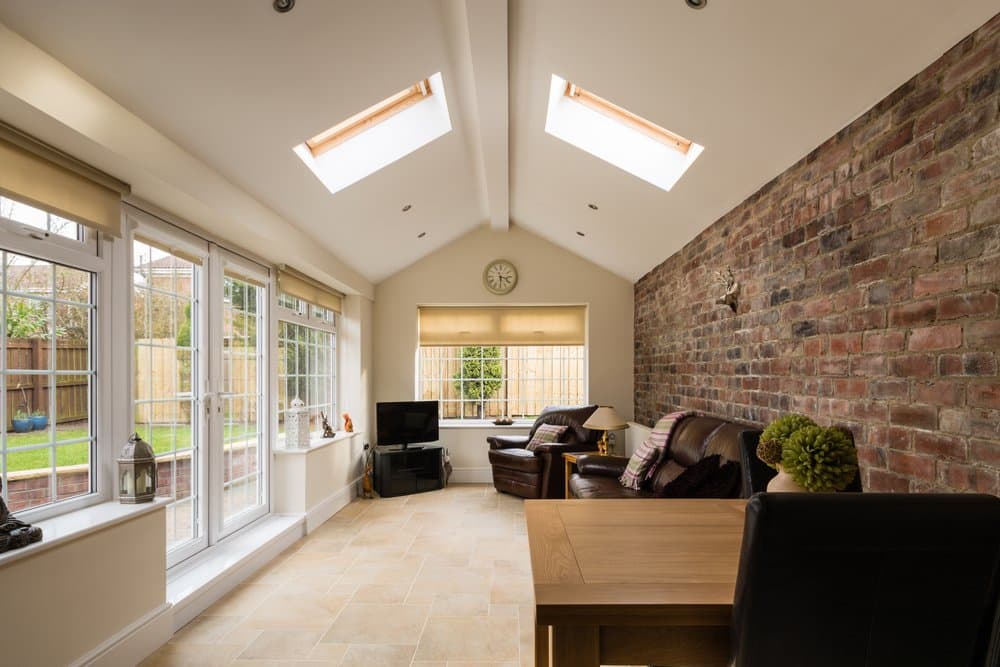 Take advantage of Colorado's 300 days of sunshine by adding a sunroom to your home. You can create a sunroom by turning the front or back porch into a walled room with lots of windows to let in natural light, or you can add a sunroom addition to the front or back of the house.
It's a great way to use underutilized space and turn it into something as beautiful as it is useful. A sunroom can serve as a gathering and living space to welcome guests, as a playroom for kids and family games, a dining or entertaining space, or a place to read and relax.
Sunrooms blur the line between inside and outside and can create a space that brings the outdoors inside and expands your house.
Sunrooms also tend to be a less expensive type of addition because they don't require the same insulation and processes as a full addition for a living space.
These 10 home addition ideas can help with brainstorming and planning as you see all that's possible with a home addition.
Let's make your home addition a reality!